Tuesday, February 04, 2014
Luke 2:25-35: Simeon in the Temple - a sermon for Candlemas
Luke 2:25-35 (English Standard Version, Anglicised)
Now there was a man in Jerusalem, whose name was Simeon, and this man was righteous and devout, waiting for the consolation of Israel, and the Holy Spirit was upon him. And it had been revealed to him by the Holy Spirit that he would not see death before he had seen the Lord's Christ. And he came in the Spirit into the temple, and when the parents brought in the child Jesus, to do for him according to the custom of the Law, he took him up in his arms and blessed God and said,
"Lord, now you are letting your servant depart in peace,
for my eyes have seen your salvation
that you have prepared in the presence of all peoples,
a light for revelation to the Gentiles,
and for glory to your people Israel."
And his father and his mother marveled at what was said about him. And Simeon blessed them and said to Mary his mother, "Behold, this child is appointed for the fall and rising of many in Israel, and for a sign that is opposed (and a sword will pierce through your own soul also), so that thoughts from many hearts may be revealed."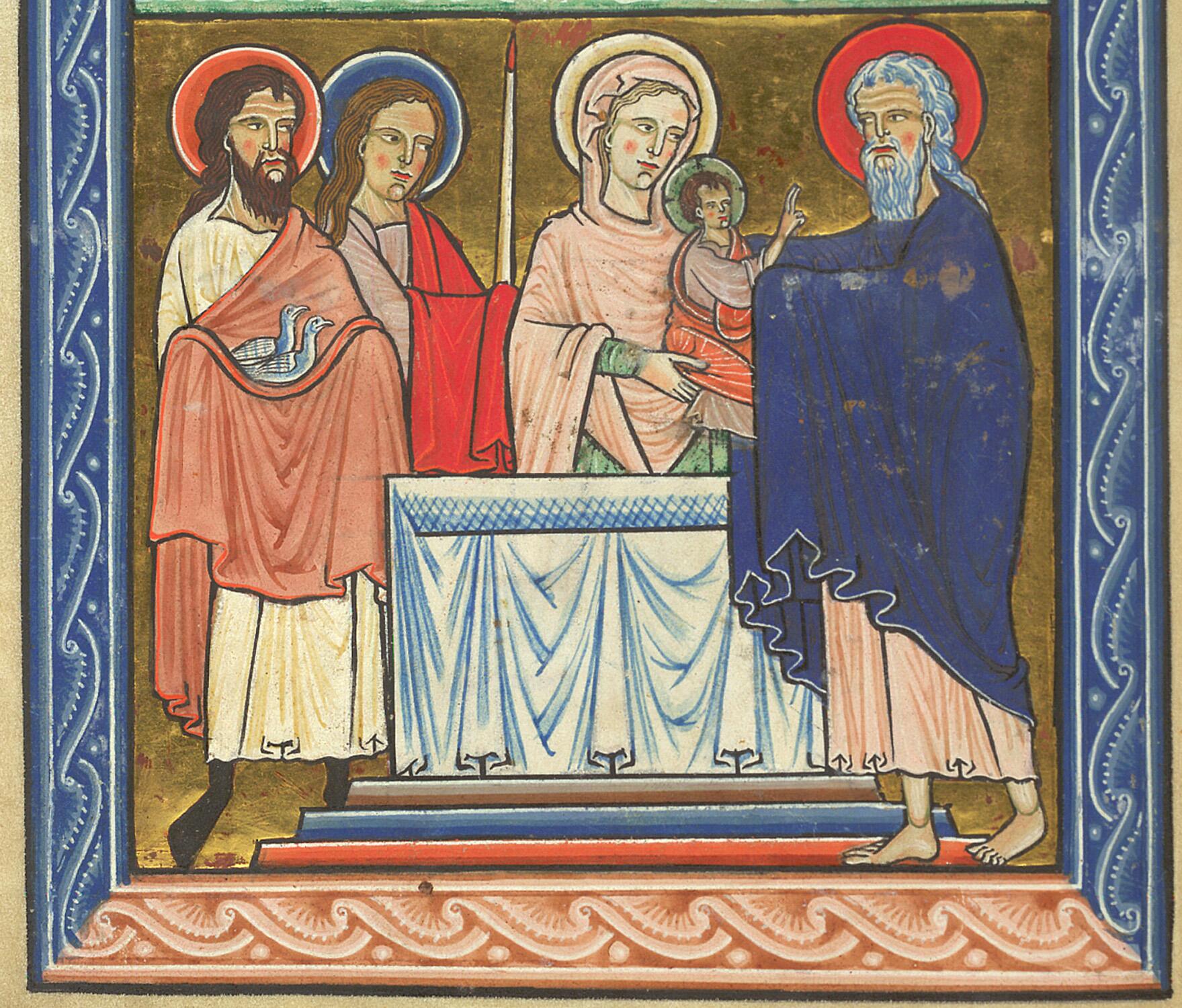 Simeon was living in expectation of seeing 'the Lord's Christ', the Messiah, the 'consolation of Israel'. In contrast to the politically focused hopes of so many Jews under the Roman occupation, the consolation Simeon desired: 'was not the fulfillment of Jewish political hopes involving deliverance from their enemies and restoration of David's throne but rather to the salvation Jesus brought.'
(New American Commentary, p. 115.)
Simeon looked for to the sort of consolation Jesus pronounces in Luke 19:10: 'Today salvation has come to this house, because this man, too, is a son of Abraham. For the Son of Man came to seek and to save what was lost.' As the apostle Paul emphasised in his letter to the Christians in Rome, true salvation is a relationship with God embraced by faith and not earned by works. Moreover, this salvation surpasses the ethnic boundaries of descent from Abraham: 'That is why it depends on faith,

in order that the promise may rest on grace and

be guaranteed to all his offspring - not only to the adherent of the law but also to the one who shares the faith of Abraham,

who is the father of us all…' (Romans 4:16) This salvation is 'prepared in the presence of all peoples, a light for revelation to the Gentiles, and for glory to your people Israel.' (Luke 2:31-32)
The Holy Spirit told Simeon that he wouldn't die before seeing the Lord's anointed, and moved by the Spirit he went to the Temple court just as Mary and Joseph arrived with the baby Jesus. Taking Jesus into his arms, Simeon praises God, blesses Joseph and Mary and gives Mary a word of knowledge.
Simeon can be understood to contrast one group of people, 'that falls (humbles itself) and rises (is lifted up by God)'
(New American Commentary, p. 117.)
with another group of people, who 'speak against' God's signpost to salvation. Thus Simeon echoes Mary's own hymn of praise earlier in Luke's gospel, which speaks of how God 'has scattered those who are proud in their inmost thoughts… but has lifted up the humble.' (Luke 1:51-52)
Simeon says that by their response to Jesus the 'thoughts from many hearts may be revealed.' The Greek word translated here as 'thoughts' (dialogismoi) means antagonistic or evil thoughts. The use of this term continues Simeon's presentation of Jesus as a sign that will be rejected. Again, the Greek word translated as 'hearts' (kardia) encompasses a person's intellect as well as their emotions. In other words, as some people come to understand Jesus as God's revelation so Jesus reveals their inner antagonism to God's light. Some of these people may allow themselves to be brought low by the encounter, joining those humble souls who hunger for the good things of God's kingdom (Luke 1:53). As Mary says, God's mercy 'extends to those who fear him' (Luke 1:50)
Paul likewise holds out hope that although Jesus was a 'stumbling stone' to the Jews, Israel did not 'stumble so as to fall beyond recovery' (Romans 11:11):
'Not at all!

Rather, because of their transgression, salvation has come to the Gentiles

to make Israel envious. But if their transgression means riches for the world, and their loss means riches for the Gentiles,

how much greater riches will their full inclusion bring! … For God

has consigned all to disobedience, that he may have mercy on all.' (Romans 11:11-12 & 32)
In this light, what are we to make of Simeon's parenthetical comment to Mary that '
a sword will pierce through your own soul also

'? Of course, 'The most common interpretation is that it refers to the sorrow Mary would experience in seeing her son rejected and crucified.'
(New American Commentary, p. 117.)
However, this comment likely alludes to 'the fact that Mary would also stumble and experience difficulty in her son's mission'
(New American Commentary, p. 117.)
, as recorded later in Luke's gospel. Thus William C. Nicholas Jr. explains that 'Family ties will not render [Mary] exempt from making a conscious choice to follow or reject Jesus' teaching.'
('The Oracles of Simeon: Luke 2:28-35')
As Jesus says in Matthew 10:34: 'I did not come to bring peace, but a sword.'
As would appear from the Marian perspective of the early chapters of Luke, and John's record of the crucifixion, Mary chose to follow Jesus. Each of us faces the same choice on a daily basis, for as C.S. Lewis said: '
The one thing Christianity can't be is moderately important: either it's untrue, in which case it's of no importance at all, or it's true, in which case it demands your whole life.'
Wednesday, November 06, 2013
First 'Faithful Guide to Philosophy' companion video
This is the first of a series of vids - one per chapter - made by Peter Byrom to accompany my latest book,
A Faithful Guide to Philosophy
:
A Christian Introduction to the Love of Wisdom
(Paternoster, 2013).
Labels: A Faithful Guide to Philosophy, Peter S. Williams, video
Monday, August 05, 2013
A New Book & New Website!
My new official website
http://www.peterswilliams.com/
has now launched!
It hosts info about my books, a selection of my papers, podcasts and videos, as well as links to my various presences on the web (e.g. podcast, YouTube channel, Blog, Twitter Account, etc).
In the near future I hope to add more papers and a series of videos/podcasts on my latest book:
A Faithful Guide to Philosophy (Paternoster, 2013)
Saturday, April 20, 2013
'The God Argument' - Peter S. Williams vs. A.C. Grayling
I recently debated the existence of God with the well-known neo-atheist Oxford philosopher A.C. Grayling on Justin Brierley's
Unbelievable
(Premier Christian Radio).
To hear the full debate visit:
http://t.co/mCwGozxTAG
Here's a YouTube video of our discussion of the design argument from cosmic fine-tuning:
(I didn't know they'd be video recording our discussion. If I'd know, I would have dressed smarter!)
This section of our debate has generated some on-line discussion (e.g.
here
&
here
) and was picked up by some blogs:
Jonathan Mclatchie, 'British Atheist Philosopher A.C. Grayling Is Confused About Intelligent Design'
http://www.evolutionnews.org/2013/04/ac_graylings_co071041.html
Mike Keas, 'Confusion about how Fine-Tuning Implicates Intelligent Design: British Atheist Philosopher A.C. Grayling'
http://blogs.christianpost.com/science-and-faith/confusion-about-how-fine-tuning-implicates-intelligent-design-british-atheist-philosopher-a-c-grayling-15612/
Concerning Grayling's observation that his parents and grandparent's etc. had to have meet in order for him to be born, he admits on page 80 of
The God Argument
that this is
'a retrospective observation'
, which amounts to admitting that his grandparent example isn't analogous to the
independently specified
complexity of cosmic fine-tuning.
Here's a YouTube video of our discussion of the Cosmological Argument:
Peter Byrom kindly gave me permission to reproduce here an e-mail he sent in to Justin Brierly's
Unbelievable
following the broadcast:
Very glad you were able to get A.C. Grayling onto your show, though it is odd that he appears to have suddenly re-discovered an interest in theistic arguments: When you invited him to debate William Lane Craig in 2011, he dismissed the whole discussion of arguments for God as "an empty prospect", but now apparently they're worthy of a whole new book called "The God Argument"!
But onto the discussion itself: it was astonishing to hear a Professor, who charges £18,000 tuition a year, exhibiting such fallacious and sloppy reasoning. I counted at least six invocations of the genetic fallacy: where Grayling tried to undermine inferences to God, agent causation (and even the principle of causation itself) by repeatedly claiming that humans are psychologically and historically pre-disposed towards them. So what? This does nothing to address the argument.
In fact, when invited to respond to Peter S William's critique for why you do not need an explanation of an explanation, Grayling had nothing else to offer other than the genetic fallacy! I encourage listeners therefore to do an experiment: listen to the show again, but omit every instance where Grayling says something like "it's very natural for us humans to infer this, because..." or "that's a very egocentric way of seeing things", and see what you're left with!
As for the specific arguments:
Teleological:

Grayling admitted he would draw a design inference from Peter S William's analogy of the cash machine... so why not the fine-tuning of the universe? The most Grayling could do was fixate upon the alternative analogy of the contingent events which led up to his birth, but this was simply not an example of specified complexity: the existence of AC Grayling as opposed to some different human life, does not conform to an independently given pattern in the way that the existence of human life as opposed to a lifeless universe does. This blog post by Jonathan Mclatchie goes into brilliant detail on why Grayling is confused here, and I recommend it to all listeners: http://www.evolutionnews.org/2013/04/ac_graylings_co071041.html
Furthermore, Grayling was content to say "we exist, that's a fact, and that's just the way it is"! Apart from this being a disturbingly incurious statement, Grayling then made a completely illogical leap: claiming that "we exist, that's just a fact, therefore it's due to chance". But how does that follow? The same would be true of our existence if the explanation were physical necessity or design. So Grayling was simply plucking his preferred explanation out of thin air.
Grayling also doesn't appear to be up to speed on the problems with multiverse models (lookup the criticisms by Roger Penrose especially). But even if there were an infinity of all possible outcomes in a multiverse, Grayling would have to face the problem that there would be an infinity of universes where somebody enters the correct PIN code for his bank account by sheer chance, and an infinity of universes where the words in Grayling's books arise out of no intelligent cause! ;-)
Cosmological
: Grayling persistently side-stepped the inference to a necessary being in the most school-boyish manner: he seemed to think he could undermine the idea of a necessary first cause of the universe by calling it "Fred", but that is mere semantics! What matters is not what you call something, but the properties of what that being actually is. An englishman will say "dog", a frenchman will say "chien", but they're still referring to the same thing (it's called "ontology", Professor)!
Grayling then contradicted himself on multiple counts: he said it was meaningless to invoke an uncaused first cause, then offered naturalistic versions of "uncaused first causes" (even going further to offer logically contradictory "self-caustion"); He said reality may be different to what we can comprehend, then complained God was incomprehensible; he said we humans cannot get our heads round things not being caused, then complained that God would need to be caused! He demanded an explanation for God, but not for the universe; he even went so far as to describe the question "why is there something rather than nothing" as a meaningless question, and compared it to asking "why is 3 greater than 2"... but the irony is that there IS a meaningful answer to that question: NECESSARILY EXISTENT mathematical axioms!
Moral:
This one was simplest (and most simplistic) of all. Grayling said that facts about human flourishing serve as a basis for objective moral values, but this is nonsense: those descriptive facts do nothing to prescribe the obligation that humans ought to flourish! It was also telling that he had no response to the "horn-splitting" Euthyphro Dilemma resolution... as if he'd never even heard of it.
In all, Grayling's arguments were horrendous, yet he has an unnerving rhetorical talent for dressing up sheer lack of curiosity as some kind of sophisticated, academic virtue. Do not be fooled!
In short, if you're AC Grayling:
- the existence of life "is just a fact",
- the existence of the universe "just is, with no explanation",
- and human flourishing "just is good".
...And yet Grayling is renowned for quoting Socrates' saying "the unexamined life is not worth living"?
Noted Christian philosopher Keith Ward reviews A.C. Grayling's The God Argument here.
Labels: A.C. Grayling, cosmological argument, Fine-Tuning Argument, Moral Argument, Peter S. Williams
Friday, March 22, 2013
The Cardiff University God Debate: Peter S. Williams vs. Prof. Christopher Norris
Monday, February 18, 2013
C.S. Lewis vs the New Atheists - Trailer
A
free sample chapter
is
available here
.
You can listen to Peter's talk from the official book launch at the Oxford C.S. Lewis Society on March 5th 2013
here
and to a recent interview about the book with Brian Auten of
Apologetics 315
here
.
'This book shows the breadth, depth, and durability of Lewis's Christian apologetics.' - Dr. Michael Ward, Senior Research Fellow, Blackfriars Hall, Oxford University & author of
Planet Narnia
'Given the New Atheists' confident rejection of religious belief, one might have thought that their case would stand up to scrutiny when compared with the most prominent Christian apologist of the twentieth century, C.S. Lewis. In this book, Peter Williams clearly demonstrates that this is not the case at all. He shows that Lewis rejected his earlier atheism as a result of an in-depth consideration of the nature of reality, whereas the New Atheists fail to back up their rhetoric with any serious evaluation of the arguments. This highly readable book will be of interest to all who wish to evaluate the New Atheism and to understand the enduring legacy of C.S. Lewis.' - Dr. David Glass, author of
Atheism's New Clothes
'While they terrify many an unprepared soul, the new atheists are really paper tigers. Their roar rings hollow, their swagger lack intellectual rigor. Their arguments, while strident, are really hapless and hollow. Williams carefully exposes their fallacies and rebuts their arguments with biblical and intellectual rigor. This is a savvy work of apologetics for our day.' - Dr. Douglas Groothuis, Professor of Philosophy, Denver Seminary
'I recommend [Peter's work] enthusiastically.' - Dr. William Lane Craig, Research Professor of Philosophy, Talbot School of Theology
You can order online from:
amazon.co.uk
,
amazon.com
,
authentic
,
blackwell
,
thebookdepository
,
cross rhythms
,
eden.co.uk
,
koorong
,
waterstones
,
wesley owen
,
whsmith
.
Labels: C.S. Lewis, New Atheism, Peter S. Williams
Tuesday, January 29, 2013
A Pre-Modern View of Postmodernism (Romania)